Business
Our aircraft fleet
We offer VIP charter, medical transports, HEMS, aerial filming and photography, handling private helicopters, and managing large helicopter projects and events.
Bell 206 Jet Ranger
The spacious cabin offers a configuration ideally suited for corporate and executive transport. The doors and seats can be easily removed for the installation of utility and photographic equipment, making the Jet Ranger one of the most versatile executive helicopters available to date. Our new refurbished Bell 206 will offer you an excellent interior with white leather and perfectly maintained details.
Specs:
Engine type: 1x Allison 250-C20B
Capacity: 4 passengers
Maximum payload: 500 kg
Cruise speed: 90 kts / 170km/h
Max airspeed: 120 kts / 220 km/h
Max operating altitude: 20 000ft / 6300m
Operative range: 275 nm / 510 km
Bell 505 Jet Ranger X
The Bell 505 Jet Ranger X is Bell Helicopter's new five-seat aircraft designed for safety, efficiency and reliability through the use of advanced avionics technology. It incorporates proven dynamic components, advanced aerodynamic design, a dual channel FADEC Turbomeca Arrius 2R engine and best-in-class value.
Specs:
Engine type: 1 × Safran Arrius 2R turboshaft
Capacity: 4 passengers.
Maximum Payload: 1669 kg.
Cruise speed: 125 kts / 230 kph.
Maximum airspeed: 126 kts / 232 kph .
Maximum Op. Altitude: 18610 ft / 5570 m.
Operative range: 333 nm / 617 km.
King Air C90 GTX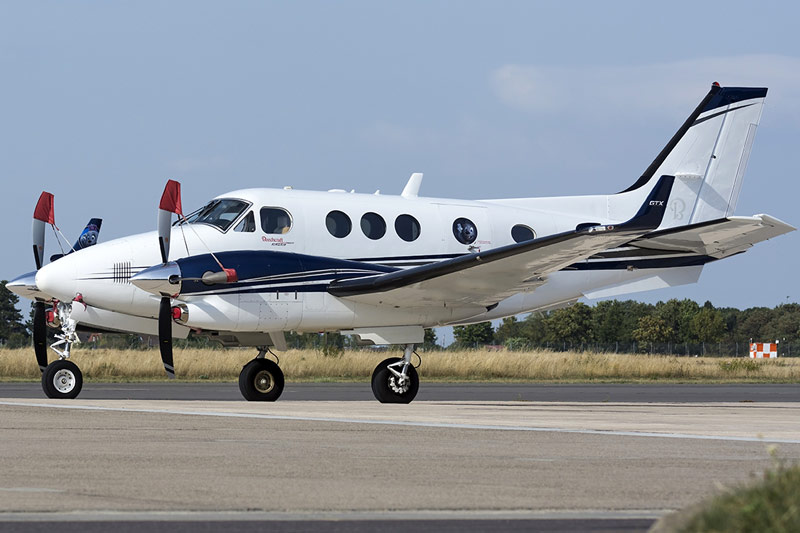 The King Air® C90GTx offers the impressive qualities of performance combined with comfort. This versatile workhorse has great range and payload due to its features like composite winglets, swept-blade propellers and dual aft strakes. The King Air C90GTx is sure to become your new favorite aircraft.
Specs:
Engine type: 2x PT6A-135A Turboprop Engines with 550hp
Capacity: 7 passengers (max occupancy limit: 13 people, incl. crew)
Maximum payload: 958kg
Full Fuel payload: 321kg
Cruise speed: @10'000ft – 250kts (463km/h), @18'000ft – 22'000ft – 270kts (500km/h), @30'000ft – 260kts (480km/h)
Max airspeed: 226kts / 0.46 Mach
Max operating altitude: 30'000ft
Operative range: 1'050nm (1'944km)
Fuel capacity 384gal./1453liters, 2573lbs
Cirrus SR22 Turbo G5
Cirrus SR22 Turbo G5 is a five seat single engine composite aircraft. With Flight Into Known Icing, air conditioning and the Cirrus Airframe Parachute System, this aircraft is the perfect choice for your next leisure getaway or business trip.
Specs:
Engine type: Twin-Turbocharged Continental TSIO-550-K producing 315hp
Capacity: 3 – 4 passengers
Maximum payload: 604kg
Full Fuel payload: 354kg
Cruise speed: @10'000-15'000ft – 172kts (318km/h), @25'000ft – 213kts (394km/h)
Max airspeed: 214kts (396km/h)
Max operating altitude: 25'000ft
Operative range: 800nm (1481km)
Request a helicopter VIP service
We are happy to help you with your exclusive request. Our VIP-manager is ready to answer any question you have about our helicopter VIP services. Just fill out the form below or call us at +34 951 820 050 to get in touch.